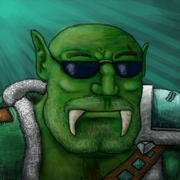 Yo dawgs, welcome to my userpage. I am Amargaard (Often called Am or Amar) from the Hive Workshop. I am the creator of this wiki and I have always been the most active user on all the wikis, since the very first Daily Peon wiki.
In the old DP roleplay I controlled Peon Amargaard and the Protectorate force. In the second DP roleplay I only controlled Am'ar. I am currently trying to create a third generation of DP roleplaying, where I am going to use Am'ar Gaardos, a modified version of Peon Amargaard.
Feel free to ask any questions about the lore of the Daily Peon or about how to edit this wiki at my talk page.
Ad blocker interference detected!
Wikia is a free-to-use site that makes money from advertising. We have a modified experience for viewers using ad blockers

Wikia is not accessible if you've made further modifications. Remove the custom ad blocker rule(s) and the page will load as expected.